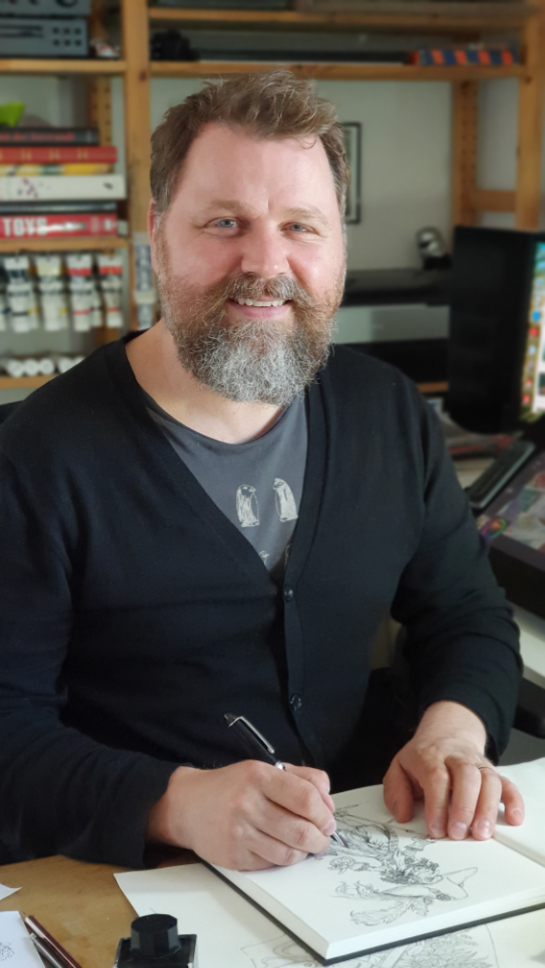 Hi! I'm an illustrator working and living in Copenhagen Denmark.
I have a Ba(hons) degree in Illustration, first class, from University of Wolverhampton, England, and a MA in Visual Culture from University of Copenhagen, Denmark.
I work with a broad range of clients, with jobs ranging from book covers and editorials to posters and business-to-business and pretty much anything else.
I work with pixels or pigments depending on the job.
Clients:
Danmarks Radio, Dansk Industri, Julemærkefonden, Forlaget Delta, Forlaget Matematik, Forlaget Jentas, Gyldendal, Nelson Thornes Publisher (UK), Heinemann Publishers (UK), Nelson Canada (Canada), De forenede Dampvaskerier, Bonniers, Carlsberg, Københavns Sundhedsforvaltning, Københavns Universitet, K.U. Science, Københavns Kommune, Esbjerg Kommune, Albertslund Kommune, Udenrigsministeriet, Optometric Management (USA), Samvirke COOP, DSB, DUI, TigerKids, Psykiatrifonden, Børns vilkår, Røde Kors, CNA Hardy, ADtomic, Ikea, Mars, Danmarks Lærerforening, Socialdemokraterne, Haldor Topsøe, Hr. Lind, Peder Lykke Centret, S-Com Denmark are a few of my clients.
I was born in a run down hospital in the eastern part of Copenhagen, on a freezing cold winter morning in 1973. Today I live in a great appartment in Frederiksberg, Copenhagen, with my lovely wife and daughter.

Im a member of Illustratorgruppen and Tegnerforbundet
Exhibitions:
Kunsten at tegne, 2020(group)
Tidstegn, Tegnerne1919,2019(Group)
Novartis, 2013(solo)
LEO Pharma, 2013(solo) 
Industriens Pension, 2012(solo)
Jazz Kælderen, København, 2006(solo)
New Designers, London, 2001(group) 
The Graduation Show, Wolverhampton, 2001(group)
Frederiksberg hovedbibliotek, 1998(solo)
CVR.NR DK30871707